Mohan Khokar Dance Collection: It was one man's mission in life, now India's treasure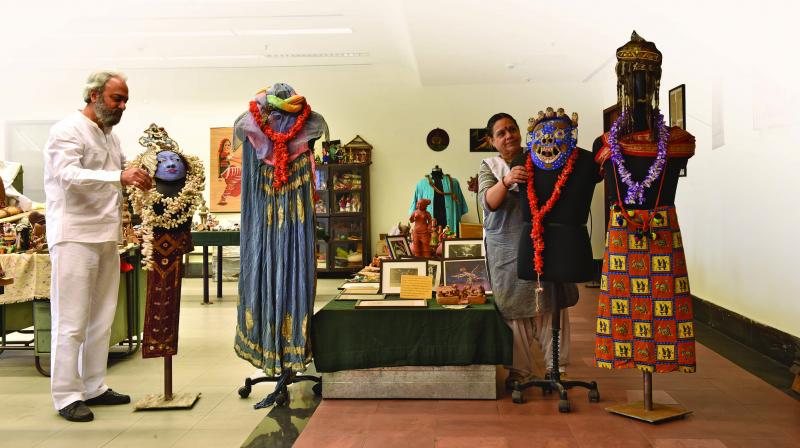 India has a vast tradition of dance, tracing its origins back to ancient times. The earliest known artistic clue is the 2000-year-old Dancing Girl of Mohenjodaro. From then till now, only one man, out of one billion Indians, made it his mission to collect everything he could on dance, its history and heritage. Mohan Khokar. A pioneering scholar & avid collector, a critic, connoisseur and historian.

How did he do it?
Born in Quetta in Baluchistan (now in Pakistan) in 1924, this son of a military commissioner (Sardar Bhagat Ram Khokar) saw no dance until Ram Gopal, the Njinsky of India, came to Lahore to perform. (In his group was one nine-year-old dancing wonder, Baby Saroja, whom Mohan was to marry!) From then onwards, Mohan pursued both Ram Gopal and Bharatanatyam. He was the first North Indian man to enrol at Rukmini Devi Arundale's Kalakshetra in Madras (Chennai). The year was 1940.

Mohan Khokar was only 24 years old when he was selected to head the just-born Department of Dance of the first university in India to offer Dance at the graduate level – M.S. University in Baroda, Gujarat. In 1950 and 1960 the university loaned him to the Union Education ministry in New Delhi to act as Special Officer for Dance. Later he served the Sangeet Natak Akademi for 18 years, the last five of them as its Secretary.

He did his best to nurture dance and dancers. Due to his enlightened patronage, a few rare forms, such as Kathak, Seraikella Chhau, Koodiyatam of Kerala and assorted folk traditions, survived. He ensured that children of traditional gurus got scholarships and employment so that they did not have to spurn dance as a profession. He did all this in the 1960s through the 1980s, when few cared or offered more than lip service.

He also found the time and inclination to author over 5000 articles, edit and contribute significantly to journals like Marg, Pushpanjali, The Illustrated Weekly of India, Bhavan's Journal, Surya magazine, The Hindustan Times, Sruti and attendance. He wrote seven definitive volumes on dance, which are all out of print, and many papers, like an UNESCO compilation on dance in 1974 and a discourse for the Cord Conference in 1976. He died in 1999 in Chennai. And left his mammoth dance collection to his third son, Ashish Khokar.
In his lifetime Prof. Mohan Khokar collected every book written on dance, every journal, prospectus, brochure, poster, postage stamp, rpm disc, doll, sculpture, including Chola bronzes, painting, textile, print, postcard – just about everything on dance.

Today, this material, called The Mohan Khokar Dance Collection, is the single largest holding on dance, comprising over 1,00,000 photos, 50,00,000 press clips, 5,000 books and more. Rare manuscripts, including a signed copy of Nawab Wajid Ali Shah's Najjo and Banni; rare bronzes, including the only known Ardhanarishwara statue, paintings by Jamini Roy, Shaivax Chavda, K.K. Hebbar and personal correspondence with many legendary dancers and many more legendary names are part of this archive.

Also in the holding are recordings of all national giants and gurus, dancers and divas which all the national bodies and Academies put together do not possess because they did not know the word documentation, till recently!
Inventory
Thousands of books on dance, in all languages
Rare manuscripts, portfolios, biography of dancers
Thousands of photographs mostly taken by the Collector and some procured from dancers
Chola icons/bronzes, rare art pieces on dance
Popular art representation of dance containing handbills, posters, calendars, etc.
Dance dolls from the world over
Textile motifs on dance
Postage stamps, greeting and visiting cards
Programme brochures and souvenirs
Examination papers, dissertations, first prospectus of national dance institutions like Kalakshetra, Kalamandalam, Shanti Niketan, Bharatiya Kala Kendra and others
Masks, Costumes, ornaments
78 rpm discs of dance of tawaifs and devadasis
Video tapes, films on dance
Dance puppets in leather, glove and marionettes
Paintings, etchings, drawings on dance and dancers
Press clips on all India basis from pre-Independence days to present times
Seminar and conference papers on dance
Personal letters of dancers to the collector
Extensive audio recordings on giants no more: Uday Shankar, Rukmini Devi Arundale, Gopinath.....
Many more items, some personally donated by dancers of their families, to the Collector.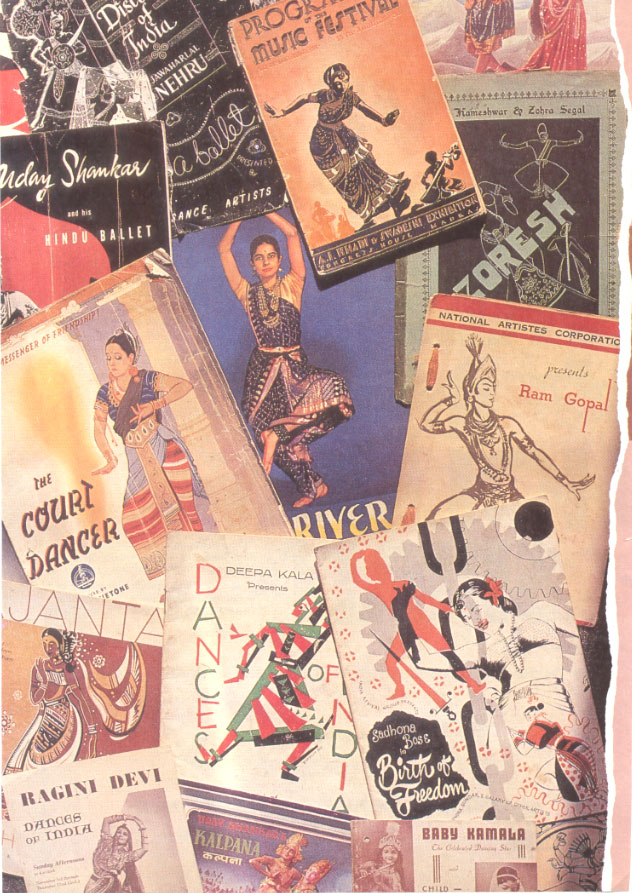 The Archive undertakes books and biographies, including monographs on gurus and pioneers.
India's first and only yearbook on dance – attendance – is published by the MKDAOI.
Exhibitions on dance history are envisaged, especially for students.
Seminars on dance history and heritage may be planned; changes and contexts provide immense research opportunities.
The archives can spur an exchange of scholars and students desirous of learning any aspect of dance history.
The collection is wide-ranging enough to provide myriad fora for dialogue, debate, discussion and discourse.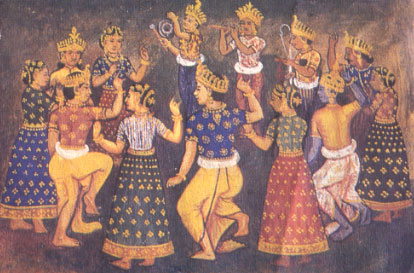 Housing this enormous and enormously valuable collection has posed problems for the Khokars. The responsibility now rests with Ashish Khokar, himself a noted dance critic, author and dance historian. It is yet to be duly organised and catalogued but scholars and students, researchers and rasikas find their way to the Khokars all the same for consultation, guidance and practical help.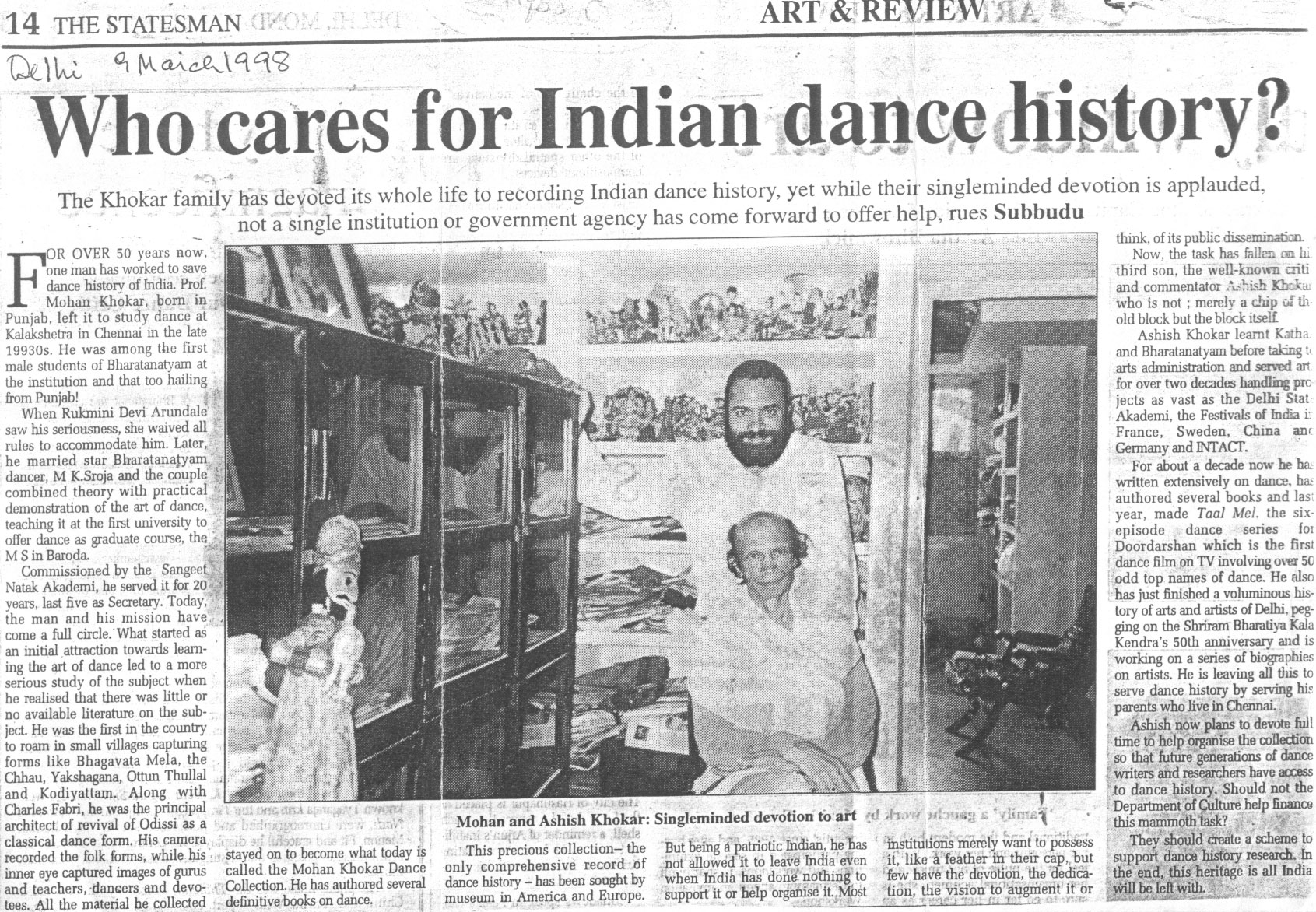 If you need help or inputs, feel free to write to:
Ashish Khokar, Curator-Director, The Mohan Khokar Dance Archives of India at: khokar1960@gmail.com
The following gurus were documented on digital video courtesy a grant from the Ford Foundation, Delhi:
GURU SITARA DEVI
GURU DAMAYANTI JOSHI
GURU U S KRISHNA RAO
GURU N K SIVASANKARAN
GURU SACHIN SHANKAR
GURU MAYA RAO
GURU LATA POOVAIAH
GURU SUNDERLAL GANGANI
GURU PRATIBHA PANDIT
GURU SUNAYNA HAZARILAL
KATHAK
KATHAK
BHARATANATYAM
KATHAKALI
CONTEMPORARY
KATHAK
KATHAK
KATHAK
FOLK
KATHAK